Past National, USO, All Amer. WInners
Tennessee Lead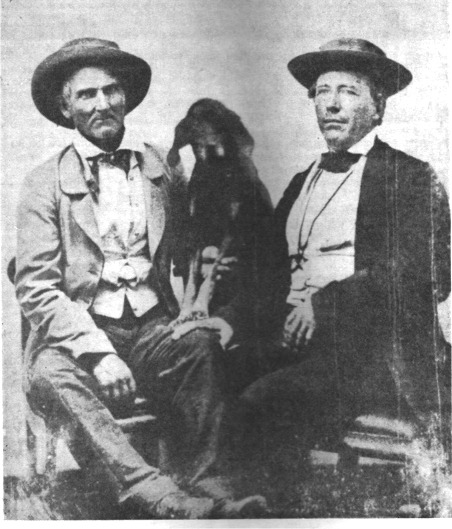 George Washington Maupin (Left), Tennessee Lead and William J. Walker (Right)

SOME OF THE EARLY HOUNDS SIRED BY TENNESSEE LEAD
THAT WERE PROMINENT IN THE WALKER BLOODLINES
| | | | |
| --- | --- | --- | --- |
| NAME | OWNER | SEX | OFFSPRING |
| JULE | HAMP MERRITT | F | ------ |
| BELLE | JEFF MAUPIN | F | SACK BY JEFF ,BALL BY DUDD |
| FRANTIC | JEFF MAUPIN | F | VIC BY DOLPH |
| AGGIE (WHELPED BY FLORENCE) | NEIL GOOCH | F | AGGIE II BY BROKE BACK BEN . AGGIE II WAS DAM OF SPOTTED TOP BY COUCHMAN |
| IDA | NEIL GOOCH | F | TRIM BY SPOTTED TOP |
| JOE BOWERS | WASH MAUPIN | M | SIRED MAUPINS' BOB WHO SIRED OLD JULE WHO WHELPED BLACK MINNIE WHO WHELPED RED MACK . |
| DI | WASH MAUPIN | | ------ |
| FITZ | WASH MAUPIN | M | ----- |
| TUPY | JOHN LARIMORE | | ------ |
| KAVANAUGHS' BLONDE | JOHN LARIMORE | | Drum by Imp.Bally |
| LITTLE LEAD | SAM MARTIN | M | ----- |
| VIC II | JASON WALKER | M | ----- |
| LAL | JERIMIAH WHITE | | ----- |
| CHINTZ | ALDRIDGE BROS. | M | ----- |
| | | | |
(Imp=Imported)
The very first mating of Tennessee Lead was to a red female named Red May jointly owned by Thomas Howard Maupin of Kingston, Ky, Speedwell Road and Alfred Johnson of Berea, Ky. The Last mating by Tennessee Lead was to a female (name unknown) owned by Yowell Wilder of Owesley co., Ky. For more info about Tennessee Lead go to the History Page.
23 generations from Tennessee Lead to 2000 USO FCH Bowman's Pepper Click Here
Copyright © 1999 by [Walkerhound.com]. All rights reserved.
Revised: 22 Nov 2007 19:22:59 -0500 .